PCCI Forms will move to a new online forms system soon. Only existing members of PCCI will be able to use the forms site. If you are not yet a member please go to the member registration page. Click this link to go to membership registration. Membership Form
"Ang PCCI ay magkakaroon ng bagong online forms system. Ang mga kasalukuyang miyembro lang ng PCCI ang maari gumamit ng bagong system. Kung hindi ka pa miyembro ng PCCI - maari kang mag sign up sa link na ito". Membership Form
Membership Card
The PCCI Membership Card is the first step before registering any of your pets.
Kennel Affix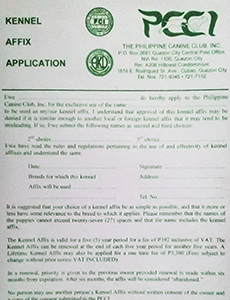 The Kennel Affix is valid for a five (5) year period for a fee of P840 inclusive of VAT. The Kennel Affix can be renewed at the end of each five year period for another five years. A Lifetime Kennel Affix may also be applied for a one time fee of P3, 300 (Fees subject to change without prior notice VAT INCLUDED).
Litter Form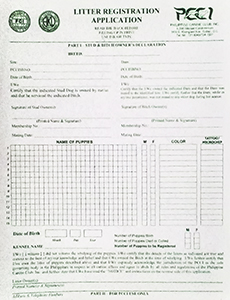 The Philippine Canine Club, Inc. reserves the right to correct or cancel for cause the registration of this litter. Any misrepresentation on this application is a cause of cancellation and may result in expulsion from PCCI.